I've made a lot of mistakes along the way. Many of which I could have avoided, had I known or prepared better.
I've paid way more than necessary, I packed a lot of unnecessary things, and there are other things I wished I did pack.
So if you're heading off on a trip, and are looking for some tips for how to prepare & what to pack, hopefully this might help – so you don't make the same mistakes as me (or Mr Bean).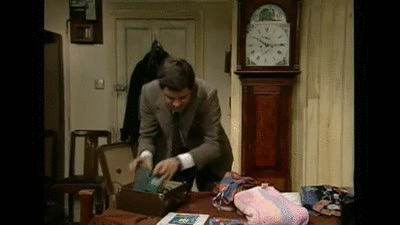 Mistake 1: Not leaving any room in my bag.
When I finally finished packing, I was chuffed that I managed to fit 'everything' in. It was completely full – I could barely zip the thing up. Little did I think about the consequences of this!
There was no room for any souvenirs along the way (there was barely space for a bag of coffee, let alone that hammock I wanted). Plus, every time I moved location, it was a huge effort trying to fit everything in the bag.
Tip 1. Leave space!
Mistake 2: Paying huge ATM fees.
I hadn't realised how much you can save, if you do your research and get a specific bank card for foreign transactions. I have been charged up to $8 in ATM fees for one single transaction – most of the time it was about $5-6.
In 8 months, I reckon I've wasted at least $100 on ATM fees. If this isn't the definition of throwing money down the toilet, I don't know what is.
Tip 2. Join Monzo bank. Andrew & Emily from Along Dusty Roads have done a great review of the different banks & cards, that you can get to save ATM fees – check it out here . If you want to join Monzo, you can get to the top of the queue using their code.
Tip 3. If you need to transfer money to anyone, transferwise saved me loads of money. (I originally used paypal – but they charge a load of interest). If you sign up with my exclusive link, you'll be able to transfer £500, completely free of charge.
So then if you need to pay anyone for anything (possibly accommodation, or something like Spanish lessons), see if you can pay online, direct to the bank account. This could save a load of money by not having to take cash out the ATM.
Mistake 3: Not wearing my money belt as soon as I left my house in England.
It might not be the sexiest item of clothing, but oh how I wish I wore it. And never, ever took it off.
My clutch bag was stolen on day 1, between when I left Guatemala airport and arriving at my house. It had my passport, phone, money, bank cards & ID in.
My mum gave me the – why weren't you using your money belt? – but in my defence I had barely arrived! I hadn't had a chance to get into traveling mode & wear the beautiful item of clothing.
Tip 4. When you have your passport on you, keep it in a money belt.
Note – there are lots of different styles of money belts out there (some much bigger than others). I like this one because it's very discrete so noone can tell when I'm wearing it.
Mistake 4: Not taking a laptop with me.
I didn't know how much freelance work there is online. I thought I'd have to do free work in hostels to save some pennies along the way – it was only when I met lots of remote workers, that I realised I could join the digital nomad crew and work online.
When my friends came to visit me for my birthday, one of them brought a laptop out for me. Yes it was initially expensive but after 3 months, I had already made my money back.
Tip 5: Do your research – don't just get the cheapest one, get what's best for you. For example, I almost bought the cheapest Macbook Air, but a lot of reviews said it's not as good and the Macbook Pro had much better reviews. So I ended up getting the 12″ Macbook which is so light and small, so perfect for travelling too. The rose gold colour is just the icing on the cake 🙂
For some tips on finding work online, check my post here
Mistake 5: Getting old-school insurance.
I didn't get super bad or cheap insurance, but I definitely could have got better.
My biggest issue is that I chose Boots, who don't accept online applications for claims (obviously I didn't know this at the time of buying). So when I've been claiming my lost stuff, I had to send all my receipts into them via post (what age are they living in?).  And now my claim form has been lost in the post. Meh.
Tip 6. After doing extensive research, worldnomads looks like a pretty good policy. Also tailored especially for nomads, easy to extend your policy if you want to stay longer, and it's easy to claim online.
Mistake 6: Not taking a camera with me.
I use my iPhone to take photos but the storage is really rubbish, and in hindsight, I wish I had a specific camera.
Tip 7. One of my friends has the Sony RX100 camera which is super compact, discrete and takes great pics. It also has wifi connection so you send the photos to your phone and easily upload to Instagram.
Tip 8. If you do take a camera, take two memory cards, and write your mobile number on each memory card. I met someone who actually got her camera back because of this!
Mistake 7: I took too many drugs.
No – not illegal ones.
I took a massive medical kit with me. For some moronic reason, I assumed there wouldn't be any drugs over this side of the world. Or at least, I believed it'd be better to attempt to lug around a whole hospital with me, rather than just going to see a doctor if I'd need to.
Not only did this take up even more space in my bag – but along the way, all the pills seem to have popped out of their packets – so all in all, it was pretty pointless.
The one time I did get ill (after drinking tap water in Cartagena), I had to go to the doctor anyway and was prescribed antibiotics. So, I barely tucked into anything I brought from home.
I'm not saying don't take a medical kit – absolutely do. The chances of getting a dodgy tummy are high, when you're eating different types of foods that you're not used to. And, you don't want to have to go searching for things like immodium & rehydrating sachets when all you want to really want to find is a loo.
Tip 9. Pack items that you know you sometimes use. These always vary person-to-person, but the items I couldn't have done without are: paracetamol, small scissors, mosquito repellent, tubigrip / bandage (I have bad knees), immodium, dioralyte, and antihistamine cream and tablets.
Mistake 8: Taking a towel
Towels are massive and takes up a lot of space. This was the first thing I ditched when I wanted to make some space, and then ended up buying a couple of cheap ones.
Tip 10. A lot of hostels have towels that you can rent, so you may not even need to take anything with you – but it's a bit risky relying on this, and I prefer having my own. Travel towels like this one are great as they pack down super small.
Mistake 9: Hand-writing all the Spanish words that I learnt in a notebook.
I used a super old school notebook and pen, as a way to write down all the new vocab I was learning. But I never seemed to remember any of it. I found it impossible to 'go in'.
Then I found a flashcards app, which is a like a personal dictionary on your phone and it absolutely revolutionised my Spanish learning. I'm just gutted I only found it so late, as I had to back-track over the last 4 months, and add in all the words I'd attempted to learn.
Tip 11. If you're hoping to pick up some Spanish along the way, check my post here
Thanks to photographer Chris Killingsworth for his adorbs pic of his dog in his camera case!
And don't forget to get insurance! It's so easy for things to get lost or stolen but if you have insurance, you can travel worry-free 🙂